Invisalign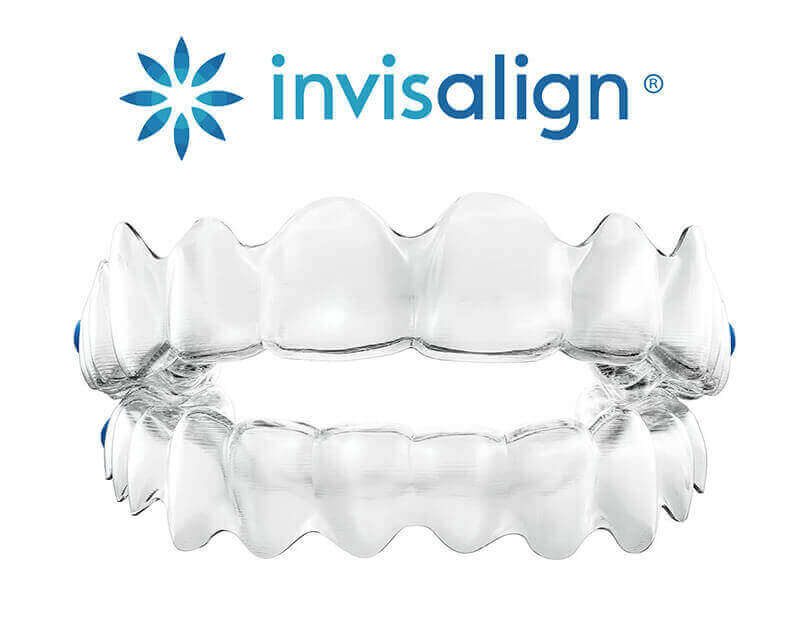 Invisalign® teeth straightening for teens and adults.
What is it?
Invisalign is an orthodontic device that uses transparent, incremental aligners to adjust teeth as an alternative to traditional wire braces. These virtually invisible, removable, and comfortable aligners allow you to smile more during treatment as well as after.
Invisalign clear aligners are made with 3D computer imaging technology and have been proven effective in treating tooth alignment issues. However, not all patients are suitable for Invisalign treatment. Only a trained and licensed Invisalign provider can determine if you will be a suitable candidate. Crossing Bridge Family Dentistry is a Preferred Invisalign Provider in Stittsville; book a consultation with us to see if Invisalign is the right solution for you.
Treatable cases
Invisalign treatment is clinically proven to be effective for a broad range of teeth straightening cases, from mild to complex. These are some common concerns doctors treat with Invisalign clear aligners:
Gapped teeth
Open Bite
Overbite
Crossbite
Overly Crowded
Underbite
Why would I want it?
Not only are the aligners virtually invisible, they are removable, so you can eat and drink what you want while in treatment. Plus, brushing and flossing are no problem. They are free from intrusive metals and wires, making them more comfortable to wear than traditional braces and which also means that less time needs to be spent coming in for adjustments. And, since you don't have to clean around wires or brackets, you're also less likely to have problems with plaque build-up, tooth decay, and gum disease. Best of all, you won't have to save your smile until after your braces come off. They're our little secret.
How does it work?
You wear each set of aligners for about two weeks, removing them only to brush, floss, eat, and drink anything other than water. As you advance your aligner with the next in the series, your teeth will move — little by little, day by day, week by week — until they have straightened to their designated final positions.
We will see you about once every six weeks to ensure that your treatment is progressing as planned. Total treatment time averages about 9 to 15 months and the average number of aligners worn during treatment is between 18 and 30, but both will vary from person to person. Please ask us during your orthodontic consultation for more detailed explanations.
iTero Intraoral Scanner
Any Invisalign case that starts with an iTero scan is less likely to encounter fit issues compared to those started with a conventional impression. Generally, iTero scans are up to 10 times more likely to be accepted compared to traditional impressions.
With iTero scanners, there is no disinfection or distortion of the image from the patient moving during the set or removal of impressions. These scanners capture the exact contours of your tooth and gingival structures, increasing the chances of a precise fit of your Invisalign aligners and retainers.
This procedure uses a laser to produce the images, which means that you are not exposed to any radiation. Additionally, the single use Imaging Shield promotes optimal cleanliness and disease prevention.
Another benefit of iTero scanners is that they eliminate the jumble and unpleasantness that is characteristic of gag-based traditional impressions. With this system, there is no goop or gagging, no unpleasant taste, plus you can breath and swallow normally during the scan.
iTero scans are posted in half the time, which translates to less time spent in the treatment chair (less than 15 minutes). You can also view 3D scans of your mouth on screen instantaneously, and receive the results of your individualised Invisalign treatment plan much faster.